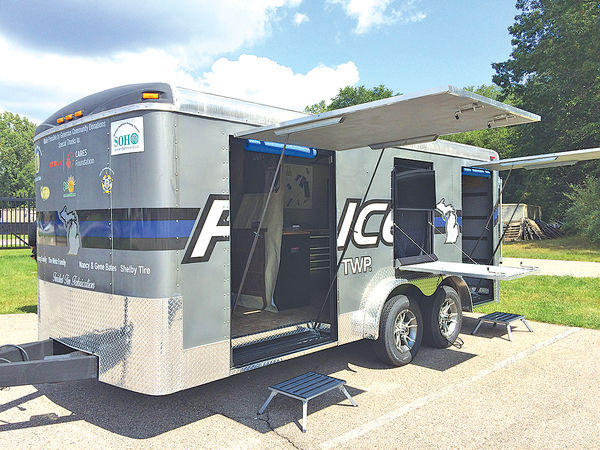 This article originally ran on C and G News on September 1, 2017.
SHELBY TOWNSHIP — It all began with a donated trailer and a police officer's desire to educate the community about the ever-evolving ways that people conceal and consume narcotics.
On Aug. 12-13, the Shelby Township Police Department's COPPER (Community Oriented Policing/Public Education Resources) trailer made its official debut at the Shelby Township Art Fair.
Detective Leslie Heisler said she gained inspiration for the mobile education unit at a conference she attended in Lansing last summer. Idaho police officer Jermaine Galloway led the conference; his "Tall Cop Says Stop" presentations focus on preventing underage drug and alcohol abuse.
"He started collecting things to put in his car to show parents, because they had no idea," Heisler said. "I've been a cop for 20 years, and I was floored at how much I didn't know and how out of the loop I was."
Heisler said she wanted to educate the public — especially parents, teachers and community leaders — about what to look for and where to look when it comes to narcotics. Things to look for include logos, pictures, clothing, potential stash compartments and new drugs.
Once she began talking about her needs, Heisler said, cash and service donations came rolling in from local businesses, families, individuals and community organizations. She estimated the total cost of the mobile education unit to be $15,000. Donations financed 100 percent of it.
"It's important enough in this community that it was going to happen," she said. "I just set it out there, and it was going to happen."
When you enter the trailer, you encounter the bedroom of Chad, a teenage mannequin, and a sign that asks, "Is Chad a typical teen? Or is he a dummy?" Heisler said most people passing though initially report not seeing any causes for concern in Chad's room.
"If you have a suspicion, there's a reason, and even if you look once, look again. Take another look. You might oversee things," she said.
Farther into the trailer, a poster identifies all of the hidden drug paraphernalia and warning signs in Chad's room that should lead parents and caregivers to have conversations with their kids, including a pot leaf lanyard. Also in the room are toiletries, beverage containers and clothing with hidden compartments.
Labeled items line the back wall of the trailer and several countertops, including a marijuana smoke filter, disguised glass pipes, electronic cigarettes and more. New types of drugs include vape pens — which Heisler said can be infused with THC, heroin, molly and ecstasy — and pink meth in a Himalayan sea salt grinder.
On another counter sits a Project Drug Free Identification Kit — a suitcase that displays examples of club drugs, hallucinogens, depressants, marijuana, tobacco, stimulants, inhalants, steroids and other narcotics.
A flat-screen TV that can swivel toward the interior or exterior of the trailer plays educational videos or kids movies.
Marijuana is still illegal federally in the U.S. and therefore cannot be studied for medicinal purposes, Heisler said, despite lobbyist pushback.
"The research doesn't back it up," Heisler said. "Marijuana strains that are getting developed now are so much stronger because we have horticulturalists actually breeding these strains, and then when they cook it down, they actually make dabs or wax. We're talking like 80 percent (THC) rates."
When she was a kid, Heisler said, the THC rates in marijuana were approximately 7 or 8 percent.
"If you put that much drug in your brain, the reaction is going to be different, and now we run into not just kids, just people high on dabs, and they're real aggressive or they're hearing or seeing things, and they're super paranoid and they want to fight," she said. "Now we've got people driving (stoned) because they think it's OK."
Heisler said the trailer is brand new, but she expects it to make appearances at community events, schools and other functions.
On Aug. 30, the same day the Shelby-Utica News toured the new trailer, several representatives from the Northwest Macomb Prevention Coalition also toured the trailer, including Macomb Family Services Director of Community Programs Joe Thayer, Romeo Middle School Assistant Principal Mike Jones and Powell Middle School Assistant Principal Steve Ameel. Powell Middle School is part of Romeo Community Schools.
Ameel said the Shelby Township Police Department's trailer fits in with the coalition's mission to come up with strategies to educate the community and raise awareness about the modern challenges that youths face.
"Unfortunately, those devious methods of hiding stuff is ever-changing. It's sort of like social media; you have to stay on top of it," he said. "(Detective Heisler) welcomed us with open arms. She definitely has a passion for keeping our communities safe."
For more information about the trailer, contact the Shelby Township Police Department at (586) 731-2121.