Understand Drug Trends in Your Community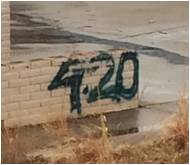 Drug and alcohol abuse don't just occur in distant cities—they happen right in your backyard.
Officer Jermaine Galloway, aka the Tall Cop, always says, "You can't stop what you don't know™." That's why he conducts community scans in cities and communities across the United States. His detailed, up-to-date training involves taking the information he finds in the field and educating the attendees on what to look for and what is out there.
When he visits a particular community, Officer Galloway will often go around to different local stores in that area to get a sense of its drug culture. For example, he may check out:
Bars
Other alcohol-based locations
Shopping malls
Smoke Shops
Officer Galloway will also take trips to events and locations, specifically to observe how the drug culture is changing and evolving.
Community Scan Training
If you want a better idea of how drugs and alcohol are affecting your community, Officer Galloway can teach your group or coalition how to conduct their own community scans.
Community scan training can last 1-2 days. Information from local scans can be used to create a PowerPoint presentation, which can help you educate others.
More on The Tall Cop's Services and Achievements
To learn about Officer Galloway's other services and his past accomplishments, check out these pages:
For more information on community scans and how they can help you understand the drug culture in your area,