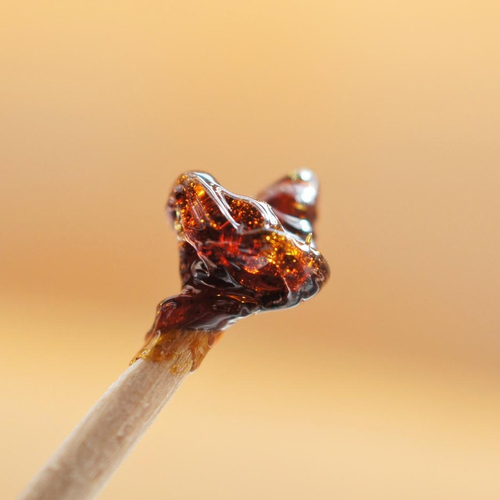 by: Deni Hawkins
BOISE, Idaho (KBOI) - Doctors are warning about a potentially dangerous drug that's gaining traction in the Treasure Valley, and in the state of Idaho.
It's a more concentrated form of marijuana called BHO, sometimes referred to as a dab, wax, honey, or hash oil. Police say the potent pot is about five times stronger than green leaf cannabis.
"They're taking green leafed marijuana and using butane to leach the THC out of it," said Dr. Mark Urban, an emergency room physician.
"It's really different than anyone's ever seen," Boise Police Cpl. Jermaine Galloway said. "The one scary part is, the THC content-the active ingredient that actually gets you high-is so much higher. Generally we're talking 12 to 15 percent street level, as far as what everyone knows to be the green leafy substance. This product can push 80 to 90 percent."
The drug is easily disguised, because it looks nothing like traditional weed.
"That green leafy plant-like material now looks like an amber color, it looks like a dark black tar-type consistency," Galloway said.
It's also easily concealed, and can be carried in lip balm containers, baked in sweets, or inhaled through a bong or vape pen.
"The issue with it is it doesn't have the same smell as marijuana," Urban said. "The classic smell people may be familiar with is not present with wax or honey, so you could potentially just use it going to the grocery store."
Hash oil has been around for a long time. While it's not a new trend, law enforcement says it's thriving like never before.
"It's one of the top growing trends we're seeing across the country," Galloway said. "This is a big deal."
Both recreational and medical marijuana are illegal in Idaho. But with several of our neighboring states legalizing some form of the drug, police say the more concentrated form is more available than ever and is seeping into Idaho.
The drug can give users a faster, stronger high. Some say the drug is medically beneficial, but doctors warn that it can come with dangerous consequences.
"Some of the things we're seeing medically are upwards effect of amphetamine toxicity," Urban said. "It can cause hallucinations, agitation, sweating, violence, aggression. Not just your typical high."
Urban says he hasn't personally seen anyone come into the ER after smoking wax.
"We haven't really seen wax and honey spike yet, at least that we know of," he said.
But police say that could change, because the drug is already well-established in the Treasure Valley.
"It's here," Galloway said. "We've seen it, we've talked to people, it's popular. If you look on posts, blogs, some local, some across the country, they're openly talking about it."
Galloway has spent a lot of time working with law enforcement agencies, school districts and hospitals to educate them about wax.
"The issue is we weren't really aware of it," Urban said of local emergency rooms.
Doctors say it's too early to know the long term effects of the drug. But investigators say dabbing is here to stay, and will continue to evolve.
"It's a big revolving circle that I think we're going to continue to see more issues with moving forward," Galloway said.
"When you talk treatment, when you talk addiction, when you talk depression...all these things that we've already seen people in marijuana treatment for, are we thinking that's now going to change?"
Galloway says getting everyone up to speed on the drug and what to look for is the first step.
"We will always be behind, but the goal is to, instead of being a mile behind, just being a little bit behind."
Police warn that this drug can be hard for parents to spot. Galloway said his best advice for parents is to act on any gut feelings you may have, keep an open dialogue with your kids, and do your research.